French Fried
It seems as if kissing the hind tit of Islamic militants, aka murderous thugs, doesn't get you far.
The
Telegraph
has a breathtaking collection of pictures.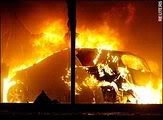 Meanwhile they are going to blame
the one who
foresaw the issue and tried to handle it before it got out of control, as prophetically posted back in June of this year
by moi!
C'est la vie!
This from
American Thinker
:
American liberals have looked admiringly across the Atlantic, and marveled at the new secular, post-modern societies that have been created. These are nations with no religious right to worry about, with high taxes to support big government spending programs. Little is invested in national defense, and everybody believes in peace and human rights, and thinks the UN and international courts are the way to achieve this. Tolerance is the underpinning of most belief systems. No-one is to be judged (except Texans, Israelis and observant Christians).

Suddenly, the new utopia is naked and on fire. I expect a huge step-up in the police and military response to get the situation temporarily under control. And then all the usual liberal bromides will follow – more money, some make-work jobs programs, perhaps a few Oprah-type discussion groups on how everybody can get along better if only communication lines were more open.
linked with Mudville Gazette's- A Brief History of Paris