Veterans Day Approaches
Click on poster to go to Department of Veterans Affairs website.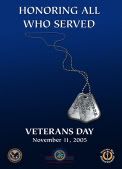 Veterans Day
is tomorrow.
Sheryl Franklin
has an excellent tribute post to Veterans Day breaking down its history.
View an emotional movie at Military.com
for the vets here...
I'm extremely lucky to live in a great city like Las Vegas who takes their
Veteran's Day Parade
extremely serious. I've heard that it's the largest and most participated one in the country but don't quote me on that.
My boys have the day off of school tomorrow and I plan on taking them down to the parade. I'll try and snap off some photos and post them here. This holiday, Memorial Day, and The Fourth of July are the only holidays that can induce tears of respect in me. I hold these holidays in high regard and plan on instilling this emotional attachment to my children so that they do not take our freedoms for granted.
God Bless all you Veterans. I served at peace time and for not very long in the Air Force so I am of no caliber of the Veterans of America's Wars. It is nice to see these men and women appreciated and respected. Please remember to honor those in your heart who are fighting now in the Middle East... updates to follow...