Back and Tan
This is me on top of Diamond Head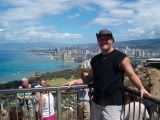 We had an awesome time in Hawaii.
Followed some of your advice (
thanks Kira
) and headed to the north shore of Oahu and did some cliff diving...
...still feelin the backflip that didn't go all the way around.
Ate some plate lunches at
Ted's Bakery
and that really hit the spot.
Next morning I was let off the hook by the boss man and wasn't required to attend the
Job Fair
we were holding in Honolulu.
So I headed east along the beach for a few miles and climbed to the top of
Diamond Head
with my friend Ryan. There were incredible views from the top of
a lighthouse
and of
Waikiki Beach
.
I spent the rest of that afternoon getting massaged... I hadn't walked 9 miles in a day in ages (let alone climing uphill like a mountain goat) and was pretty hurtin.
Later on them fruity drinks did the trick tho.
We did the
dinner
cruise
thing
,
kayaked out
to a small island and snorkled (I found a sexy blonde
island beauty
waiting for me there), and wound up eventually getting a
roof view
of the Island from the top of the Mariott.
Ok ok ok... vacation was fun. But here's the real story.
Coming back home on saturday night.
Flying out of Honolulu on a direct flight to Vegas.
As the same bags I always travel with are being scanned I notice that the security personnel seem agitated at the sight of my bag's x-ray. It promptly gets opened up and out comes my
big ole buck knife
!
This is a knife that my dad bought for me many years ago and I've always had in that bag. I just forgot it was tucked in a little nook and cranny in one of the pockets. I then realize that if a big ole jack knife isn't allowed onto planes how come it took Hawaiian security to find it? I've travelled with this bag over the last couple years several times through more than a few airports and this has never been caught!
Lets hear it for the Hawaiians eh! I wound up just surrendering it and having to fill out paperwork that probably ensures full body cavity searches at every airport I travel through from here on out. Yikes...