Mystery 'Roids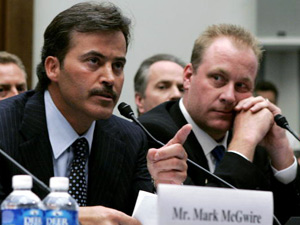 Rafael Palmeiro angrily explains that...
First:
He is Not "Mr. Mark McGwire"
Second:
It's the guy next to him who's about to explode in a 'roid rage.
And Third:
If you piss me off, this desk is going to flip and I'm gonna beat your bureaucratic ass you wussy congressman.
As for how the steroids got into his system, he blames Glen Reynolds for adding it to his morning "protein" shakes and that he has confidence in the bloggers of the
Alliance
to get to the bottom of this for him!
I'm on the case Palmy...