Alerting all Pentagon Lawyers
Seeing how Pentagon Lawyers feel about data mining free information on the internet, its a good thing we're not FBI agents. Yeah, a reference to the
Able Danger
fiasco which I've been itching to write about...
Found on
Point Five
, a post from
Gates of Vienna
detailing some homegrown terrorist groups.
People, this is considered a "long" post but it is absolutely crucial in furthering the understanding of what we face as a nation against homegrown terrorism. This story is not to be underestimated. Make some time in the future to
read this
in its entirety.
...some background on Jamaat ul-Fuqra. The group was founded in New York by Sheikh Gilani in New York in 1980. Its current headquarters is in Hancock, New York, and it has various compounds, or Jamaats, scattered throughout the United States and Canada, notably in Colorado, New York, Tennessee, Georgia, and Virginia. Most of the adherents are reported to be American-born Black Muslims who follow a strict Islamist ideology.

Sheikh Gilani, you may remember, is the cleric with whom Daniel Pearl had arranged an interview back in January of 2002. Unfortunately, Mr. Pearl was betrayed by his sources, and then abducted and beheaded. Sheikh Gilani was arrested later that month and languishes in Pakistani custody.
There is a link to
The Politics of CP
where satelite photos are taken of these areas in question. Such as this one in Virginia: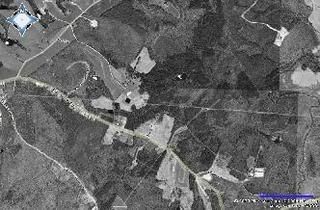 Click on photo to go to site where you can link to active satellite map of property.
Which should lead to a whole different paranoid rant I can go on at a later date
Moral of the story is... they're here, they're scheming, there are guys on to them... Let those men loose to break these rings up...
I'm talking to you Pentagon Lawyers!