Veterans Day Links
UPDATE 4pm PST:
On the way to the parade we listened to President Bush deliver a powerful Veterans Day speech. Here's
the transcript
.
Took the
kiddies
to an awesome
parade
this georgeous
afternoon
.
I love the
military
culture and
pride
Las Vegas takes in
recognizing
those who have
preserved freedom
for our
society
. These are our
True Heros
.
Links to more photos:
Here
,
Here
,
Here
,
Here
,
Here
.
You've gotta love the
Chi'town cops
in the Vegas Parade!
This appeared overhead:
Which shows the admiration we have for these men: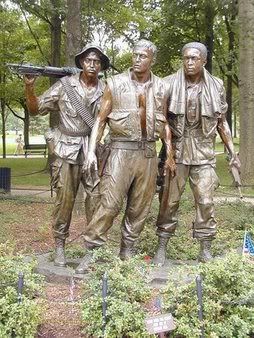 Now it's linkfest for those respecting Veterans Day 2005:
Mudville Gazette's
Dawn Patrol
has this mornings news from and about the current soldiers while paying tribute to those who we revere this day. A daily must read.
Soldier's Angel has a tribute to our
Veterans
and asks
how are you
going to spend your day. One way to show some appreciation is to donate to the
Project Valour-IT
. It is a fund raiser to provide voice activated laptops for soldiers who have lost hands, fingers, or arms. What an excellent project! Please consider giving if any way possible.
The Gunn Nutt
is using the occation to double donations made in Project Valour-IT's behalf, if you decide to donate,
consider doing it here
.
CUG offers up a
short and heartfelt
thank you... as does
The Man
.
Cao
has a story from
SuperPatriots.US
Basil's Blog
posts one of my all time
favorite poems
in honor of our Veterans.
Uber
lists her Veterans Day
links
.
Although this isn't a specific Veterans Day post,
American Lady
posts a poem called
America is...
the poem fits the bill.
At
And Rightly So
, Raven breaks down the
history of Veterans Day
. As does
Cathy
at
Sunday Morning Coffee
.
What are Wars Fought For
asks
A North American Patriot
.
Uncle Jimbo at
Blackfive
goes on a
Veterans Day Vent
.
Stop the ACLU
has their own tribute to the Vets tied in with Project Valour-IT... we well as
Open Posts
!
MVRWC
has a moving
visual post
in honor of our vets.
Dr. Phat Tony
posts a
moving picture
that puts some perspective on the sacrifice made by our deceased vets.
Diane
scanned some amazing telegrams and postcards from her
scrap book archives
. They're in such great shape too!
An Excellent Veteran blogger
Echo9er
introduced himself to me through my comments and I wanted to officially post
his Veterans Day post
that contains a great personal story and reminder:
So remember, even though you may has slept late, as I did, hang your flag, as I did. Hold a moment in your hearts to remember our Veterans, as I did. Remember most of all, the sacrifices our fighting men and women have endured to make our world safe.
Wow, what a day. Well, that pretty much takes care of almost my whole blog-roll. Please leave a comment with a link to your Veteran's Day Tribute and I'll include it above. Open trackbacks with out the trackback feature... I'm cool like that I guess.
Be sure to thank a Veteran not only today, but whenever you happen to meet one. Life as we know it would not be possible without the collection of all their individual sacrifices for the betterment of our country.
God Bless America.
also linked with: The Political Teen, Anti-Idiotarian Rottweiler