Super Womb!
We all heard about that
french chick
who had her face transplanted...
Well, frenchie's got nothing on
Shayna Richardson
from Arkansas!
SILOAM SPRINGS, Ark. -- Shayna Richardson was making her first solo skydiving jump when she had trouble with her parachutes and, while falling at about 50 mph, hit face first in a parking lot.
Did you hear that?
...50 mph- Face First- PARKING LOT!?!
"I heard a snap and I started spinning and I didn't know why. I didn't know what to do to fix it. I didn't know how to make it stop," Richardson told Fort Smith, Ark., television station KFSM.

She cut away her primary chute so her reserve could deploy, but it didn't open all the way. She spun out of control, heading straight for the asphalt below.

"At the end I said, 'I'm going to die. I'm going to hit the ground. I'm going to die,'" she said. "I don't remember it. I don't remember hitting the ground. I don't remember the impact or anything that came with it."
How could you possibly remember hitting the pavement face-first at 50 mph?? Uhh, how in the world did she live?? If ever there was an excuse for cloning...
Rescuers got her to a hospital in Fayetteville, where Richardson underwent surgery. She broke her pelvis in two places, broke her leg, lost six teeth and now has 15 steel plates.

"I went into the first surgery where they cut me from ear to ear and they cut my face down and they took out all the fractured egg-shelled bones and put in steel plates," Richardson said.

During treatment, doctors found that Richardson was pregnant, which was a surprise to her. She said she would not have jumped had she known.

"To hit the ground belly first - that's dangerous. I mean at any stage of pregnancy that's dangerous. That's not something you want to do let alone at 50 miles per hour," Richardson said.
Sounds like a plan...
Wizbang
even had Shayna as their caption contest photo back in Nov!
Remember this?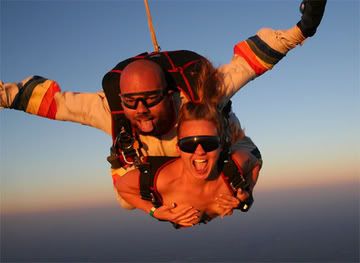 Her baby may have survived the skydive face-plant...
Just don't let
Dr. William F. Harrison
of Fayetteville Arkansas near your baby, I don't know if it would survive that meeting...