The Leader
I found this at
Don Surber's
... From the
Telegraph UK
:
A poem in a school textbook has been removed by embarrassed education officials in Pakistan after it was found that the first letters of each line spelt out "President George W Bush."

The 20-line anonymous poem, The Leader, lists the qualities of "a man who will do what he must" and bears a passing resemblance to Rudyard Kipling's If.
Rudyard rules!
God forbid you publish something inspirational and motivating in a school textbook however...
The acrostic is highly embarrassing for President Pervez Musharraf, who is already under fire at home for being allegedly pro-American and supporting the US war against terrorism.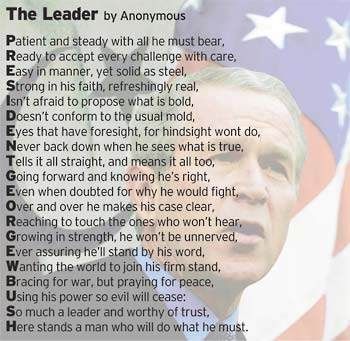 It's probably safe to say that the background graphic of Bush was not part of the textbook insert. The story seems to imply that it was by providing the graphic above.
Senior Surber writes a
new poem
with an acrostic of whom the left would rather see as Prez:
Pretty and haughty- he was in Vietnam
Ready to ask: Do you know who I am?
Easy to woo some widow millionaire,
Strong in his faith that he's debonair,
Is not afraid to be speaking for it,
Dearie, before he votes against it!
Even in Ketchum, Idaho, to ski
Not afraid to jump the line is he!
Tells it all long and in monotone:
Just to hear his voice drone and drone.
Oh and he has the right to be pompous
Having served under Mike Dukakis!
Now he is a junior senator
Kennedy's toadie and paramour.
Even has ties to the French nation:
Relatives in many generations.
Rare is the leader that nobody trusts.
Yet there is Kerry, the oh-four bust!
Rudyard's got nuttin on ya Don!
Insolublog is back with a great post called the
The Incredible Morphing Party
. He lines up the leaders of the left and the right, visually even, with their own words... who represents you and your ideals?
Oh, and in passing... A
Huge Congrats
to
Wyatt
on his promotion to Detective! Lookout you Philly criminals! Detective Earp is gonna hunt you down...