In Defense of the Law
My previous post making me out like I'm doing something better because I'm coaching a little league team rather than blogging was quite pretentious.
Throw in the terrible temptation to swing the sticks on TigerWoods '06 when some free time does emerge and there is complete blog neglect. Not to mention the recent visits to Lake Mead to reenergize myself, and burn out the kids...
Truth is, there is a ton of things going on, including the fact that the boys are on 'track break'- 3 weeks off during the Easter season from their year round school schedule.
Oh uhhh... did I say Easter?! That word just may get them kicked out of school in the near future. Now that I think about it, that may be the best thing to happen to them in light of how schools are handling this past week's extracurricular protesting activities that I'm sure the lefty teachers are wholeheartedly encouraging. I'm going to soon have to get some home schooling lessons from
Uber
stat!
A good blogging friend of mine Terresa Monroe-Hamilton, Parent of a Carson High Student, and excellent blogger behind
NoisyRoom.net
wrote this to the
Nevada Appeal
, a publication up in northern Nevada.
In Defense of the Law
Monday 300 students walked out of Carson High classrooms for an unlawful protest march against illegal immigration bills Congress is considering. This delinquency was aided and abetted by the school district, which announced the event over the school loudspeaker, and flyers were circulated throughout the school. Carson Sheriff deputies escorted the protestors all around town, even though they had no parade permit.

I spoke to many people who were outraged as I was, and internet postings showed widespread outrage too. The ethnic-identity hustlers marching in our streets claim this is an issue of race or ethnicity, but it's not. If you are here illegally, either attain legal resident status or go home. It does not matter what country you hail from – this applies to every immigrant

Our daughter, an American, lives in London while waiting for her Danish husband to get legal status here in the United States. So this is an issue we are intimately familiar with, and our family lives by the laws on this and other issues. If there is any ethnic bigotry in this matter, it lies solely with the lawbreakers in the streets claiming this is an ethnic issue. If they want to find racists and bigots, they should look in a mirror.

No other nation in the world would allow you to illegally remain in their country indefinitely with free healthcare, schooling, paid-for housing and transportation, welfare and social assistance. Yet I know of one individual here in Carson City who has been here almost 20 years working on a green card. We taxpayers subsidize her apartment and help her financially with welfare and other programs. She does not even speak English. She has had four or five children here, and all are now entitled to benefits as well. She has never even applied for citizenship and does not intend to.

This has to stop. The government tells us there are roughly 11-million illegal aliens in the US. The number may be much higher. We are being slowly, systematically invaded, and we have let this happen to us. Protestors waving Mexican flags and screaming "Mexico! Mexico!" streamed by our home yesterday – people who insist that part of the US is still Mexico's and that Spanish should be spoken by every one.

Get real! You are in our country, and so you need to follow our laws and speak our language, English. When 29% of all criminals in our prisons are illegal aliens, we have a major problem in our country. These protests are also being fueled by lawless radical Mexican gangs and movements. Will we stand idly by and let our country be overrun and watch those who break our laws flaunt them in our face? I for one feel that severe civil unrest could result from this.

And to the politicians out there – the school board and the Carson schools' administrators – shame on you! You have a bond issue on the ballot this November, and I say: Why should we give you one more penny for you to use to support illegal parades that incite violence and disturb the peace? In defense of the law and the state of Nevada, and knowing that you have willfully, recklessly and incompetently mismanaged everything you've touched, I will vote against any further money for your blatantly anti-American agendas.
YEAH Terresa!!
Sheesh do I need any more impetus to pull my kids from school?
A new blogging bud
DPGI v.2
trashes the ignorance in a
Reno Gazette-Journal
piece.
Insolublog
has found the blogging passion again with this topic as well, check out his recent articles on the immigration insanity.
Others speaking out:
The Uncooperative Blogger
,
Common Folk Using Common Sense
,
Conservababes
,
Atlas Shrugs
,
Sister Toldjah
,
Mensa Barbie
,
New Media Journal
,
Pirate's Cove
,
Right Wing News
,
The Jawa Report
,
Michelle Malkin
,
Wizbang
.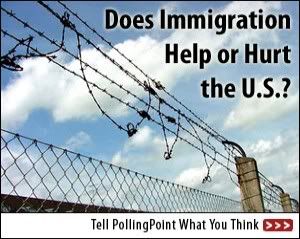 linked with open posts at: Don Surber, Adam's Blog, Blue Star Chronicles, Conservative Cat, TMH's Bacon Bits, third world county, Jo's Cafe, Basil's Blog, Right Wing Nation, Cao's Blog