The Eve of Iraqi Elections
Continuous Updates on Iraqi Elections,
keep checking back for new stories...
***POLLS OPEN***
Large Blast Heard in Iraq As Polls Open
BAGHDAD, Iraq (AP) - Polling stations opened around Iraq Thursday to allow Iraqis to vote for a new parliament. A large explosion was head in downtown Baghdad within minutes of the polls opening and sirens could be heard inside the heavily fortified Green Zone where the Iraqi government and the U.S. and British embassies are located.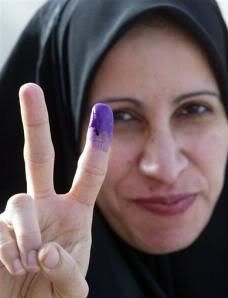 Quote of the day
(<--see video):
"Anybody who doesn't appreciate what America has done and President Bush, let them go to hell"
-Iraqi Citizen, voter Betty Dawisha
---------
As of 12pm PST Wednesday:
An Iraqi election primer
by the Christian Science Monitor
Thursday, 15 million Iraqi voters have the chance to participate in their first free parliamentary election. They'll select a new assembly, called the Council of Representatives, that over the next four years will set the course of the new Iraq.
Further
Developments in run-up to Dec. 15 Iraqi election
* BABIL - Police said they detained a militant group with a range of weapons that was planning to attack polling centres in Babil province, south of Baghdad, at Thursday's election.
Coalitions compete for Iraqi voters
(CNN) -- The United Iraqi Alliance and Kurdish alliance -- the Shiite-led and Kurdish coalitions that prevailed in the January 30 elections -- are considered front-runners in Thursday's parliamentary elections.
Iraq insurgents urged to vote
IRAQ'S Sunni Muslim politicians have pleaded with insurgents to put down their arms and vote in today's national assembly elections.
----------
As of 8am PST Wednesday morning:
(Check in with Uber for updates as well!)
Excellent photos at
Don't Get Stuck on Stupid
...
President's remarks on the War
made today:
I've come to discuss an issue of vital importance to the American people, and that is: Victory in the war on terror.
Meanwhile the American press is in full frenzy...
Apparently the NY Times story posted below about the forged ballots from Iran may have been bogus... Yet more reputable reporting from the NYTimes... See
Stop the ACLU
for updates.
News-Busters
explains:
there is one problem with the Times article... the single-sourced story appears to be totally false
Kewl, NYT vs Reuters... the once great alliance seems to be butting heads. The execs better find a way to get their stories straight!
Confederate Yankee
concludes: 'The NY Times, bastion of the liberal press in America, appears to have pulled a Mary Mapes, wishing a story to be true instead of verifying it to be true.'
'All the News that's fit to fake'
Michelle Malkin
questions the NYTimes loyalties... C'mon Michelle, we know where NYT's loyalties lie! ...
the bottom line!
Now that phantom trucks are no longer rolling through Iraq with forged ballots:
Streets Quiet On Eve Of Iraqi Election
Police were enforcing a strict traffic ban Wednesday in Baghdad, where the streets were generally quiet on the eve of Iraq's historic parliamentary election.

Borders and airports are closed and a nighttime curfew was extended as election day approached.
----------
Al-Jazeerah reports:
Masque of Democracy: Iraqi Election System Still Disfavors Sunni Arabs, Favors Kurds
...just following the NYT lead
The Al-Jazeerah of the west, CNN, concludes differently:
Elections will alter political landscape:
Sunnis and other minorities should make gains in parliament...
Nothing a quick phone call from the head of Al-Jazeerah to the head of CNN can't take care of...
----------
As of 8pm PST Tuesday evening:
Police Seize Forged Ballots Headed to Iraq From Iran
BAGHDAD, Iraq, Dec. 13 - Less than two days before nationwide elections, the Iraqi border police seized a tanker on Tuesday that had just crossed from Iran filled with thousands of forged ballots, an official at the Interior Ministry said.
Thanks to John Stephenson at Stop the ACLU(this story updated above)
Developments in run-up to Iraqi election
4,000 in Bay Area to Vote in Iraqi Election
PLEASANTON (KRON) -- People came all the way from Oregon and Washington to cast their votes for the Iraqi election at the Alameda County Fairgrounds.
Iraqi election begins today
Iraq's government announced it will close its borders, extend the nighttime curfew and restrict domestic travel starting tomorrow - two days before the main election day - to prevent insurgents from disrupting the vote.
4 U.S. soldiers, Iraqi candidate killed on final day of campaigning in Iraq
BAGHDAD (AP) - On the last day of campaigning, a roadside bomb killed four American soldiers Tuesday and gunmen assassinated a candidate for parliament in this week's election. A Shiite politician escaped injury in a bombing south of Baghdad.
US expectations at stake in Iraqi poll
BAGHDAD (Reuters) - After losing more than 2,300 troops dead and spending over $250 billion in Iraq, the United States and its allies have an awful lot invested in Thursday's parliamentary election.
US Officials Hope for Large Iraqi Election Turnout
The U.S. Ambassador to Iraq says he is optimistic a large number of Iraq's 15 million registered voters will cast ballots in this Thursday's parliamentary election. The turnout is expected to include the Sunnis, who had boycotted elections in January.
linked with: Don Surber, Basil's Blog, bRight & Early, Cao's Blog, Jo's Cafe, Adam's Blog, TMH's Bacon Bits, Conservative Cat, Those Bastards!, The Business of America is Business, third world county, Diane's Stuff, NIF, Right Wing Nation)