Brits are Busted, Clark is Coo-Coo
Some damning videos have creep-ed up on the net this weekend!
Have you guys seen these yet?
First is
this video taped hazing incident
among the royal guard of the British army. Dude takes a gnarly shin upside the head and gets KO'ed while in the midst of taking orders from a wasted and twisted superior officer...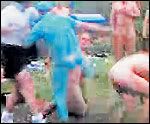 The next one was a series of videos allegedly taken by members of the AEGIS DEFENSE LTD, a British Security firm in Iraq, showing some incredible footage of cars following a security vehicle a little too closely being expertly shot up.
I'm having
a hard time finding direct links
to the video, Drudge took them down last night when I was watching them. The
Aegis rogue site
is no longer showing them that I can find anyway.
They were wild.
Upon further reading I found out
how the Irish feel
about this company! There's no shortage of controversy surrounding Tim Spicer, the owner of Aegis...
If anyone knows what videos I'm talking about and where I can find them, if they're still around, let me know.
Anyway, what a weird weekend... it doesn't get any better...
Mensa Barbie posted about this
yesterday.
Ramsey Clark
, a traitorous scumbag former Attorney General under LBJ,
arrives in Baghdad today
to assist in the legal council for Saddam Hussein! Can anyone in their right mind explain this please??
Naturally, his motives are pure...
"Our plan is to go to court in Baghdad on Monday morning representing the defense counsel as defense support. A fair trial in this case is absolutely imperative for historical truth to justice obviously," Mr. Clark told Reuters news agency in Amman.
Really? Is that really your intent Ramsey?
We'll see what type of arguments he uses to bury and make inadmissible particularly damning information about Saddam, then we'll see how concerned he is about historical accuracy!
linked at Stop the ACLU, The Political Teen, Michelle Malkin