Guilty on All Counts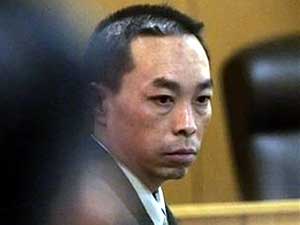 Hayward, Wis. — (AP) - A jury found a Hmong American guilty Friday of murdering six deer hunters and wounding two others during a confrontation over trespassing, rejecting his claims he shot in self-defense after one hunter used racial slurs and another fired at him.

The two survivors of the shooting had testified the white hunters never shot at Chai Soua Vang before he opened fire on them, after they confronted him about trespassing in a tree stand on their private property in some isolated northwestern Wisconsin woods Nov. 21.

Vang, dressed in a business suit with family members seated behind him, showed no visible emotion as the judge read the verdict.
There must not be much to do up there in ole Hayward seeing how they were selecting a jury
only a week ago
. Don't fret, I'm sure this is far from over;
Outside the court, one of his friends, Pofwmyeh Yang, questioned the jury's makeup and maintained Vang was innocent.

"All Caucasian, all American. Why can't there be one Hmong? Why can't there be one minority in there?" Yang said. "I believe only one person can judge, and that's God. But God didn't judge today."

Vang's sister, Chou Vang, said the jury's short deliberations were not fair to her brother.

"Everyone was white. They do not understand. They will never understand what my brother went through out there," she said. "He was not a dog to sit there and let them shoot at him. He was proud of who he is."
Isn't it possible that the deliberations were short because this was a pretty much open and shut case? Granted the guy probably had some racial slurs hurled at him and perhaps a shot was fired. Does that justify killing 6 people by shooting them in the back multiple times?
The two shooting survivors testified one of them fired at Vang, but only after he was wounded and some of his companions were dying. Vang maintained he was frightened for his life and fired after someone else shot first.

The youngest victim, Crotteau's 20-year-old son, Joey, was shot four times in the back and side. Three other victims were shot in the back, some multiple times.
Jury didn't need long to decide, obviously because they were a bunch of crackers who didn't want to miss the bowling tournament this weekend...
The jury deliberated about three hours before reaching a verdict of guilty on six counts of first-degree intentional homicide and three counts of attempted homicide. Vang, a 36-year-old truck driver from St. Paul, Minn., faces mandatory life in prison. Wisconsin does not have the death penalty.
I hope this is the end of the case, this guys mug is too freaky to keep showing on my site...