Tyler, Where do You Find this Crap?!
I had to pimp this from
Tyler D's
site:
The First Annual MySpace Stupid Haircut Awards!
For your sampling pleasure: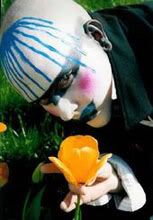 Apparently this guy(?) cleanses his palate with delicate smells of wild meadow flowers just after huffing a gallon of gasoline.
Nice find TD... that is hilarious! If that weren't enough, he had to
post this crap!