Birthday gift hints
I caught wind the other day about a birthday present I may get...
note to Wyatt, CUG, and Tony... "caught wind" is not the same as "passing gas"...
Prayer at Valley Forge
by
Arnold Friberg
is a painting I've long coveted.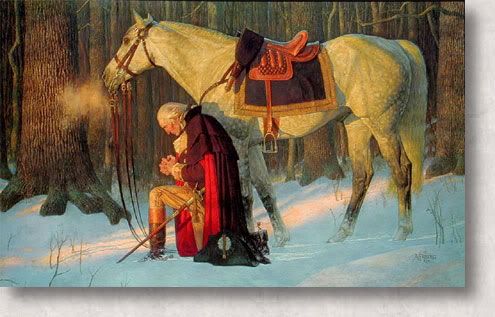 Now one of my favorite local bookstores is going help me to quit my chronic breaking of the tenth commandment (thou shalt not covet) by selling this painting at a 50% discount sometime soon!
I conveniently passed the info to my wife who also has always appreciated and admired the emotions drawn to the surface by the image. However, justifying a large purchase of a piece of art with five growing kids has always kept us from owning this magnificent piece... hopefully not for long!
The artist states:
I sought to pay tribute to the tall and heavy-burdened man who alone held our struggling nation together. For while the British grew fat and warm and well fed in Philadelphia, it was the man Washington who stayed with his starving and freezing army through that dreadful winter at Valley Forge.

It was in desperation that he wrote to the governor of New Jersey, "Our sick naked, our well naked, our unfortunate men in captivity naked!" With his own countrymen indifferent to their condition, where else could he turn but to God?

The well known American legend is without documentation. But from Washington's own words there can be no doubt of his deep and humble dependence upon whom he chose to call "that all wise and powerful Being on whom alone our success depends."

It is my hope that coming through this picture will once again whisper the spirit of Valley Forge, of suffering and devotion and pain, of liberty, and of the hand of God in the affairs of men."
I know that whenever I've gazed upon this picture I am immediately humbled and am able to put into perspective those things I consider trials and tribulations.
After having read the book
His Excellency
by award winning author
Joseph J. Ellis
(which I highly recommend) as well as having read the entire
Prelude to Glory
series of books by Ron Carter, I almost feel as if I know the man personally.
Having the opportunity to allow the image above to calibrate my attitude each and every day would be a gift that eternally gives.