Transcendental Evening!
We just spent this evening in a trance induced by the
Trans-Siberian Orchestra
. The inspirations behind
this video
that became a beer commercial last season...
If you haven't seen this group yet,
GO SEE THEM!
(It may be a bit late seeing how they do a Christmas themed show, make sure you catch them next year)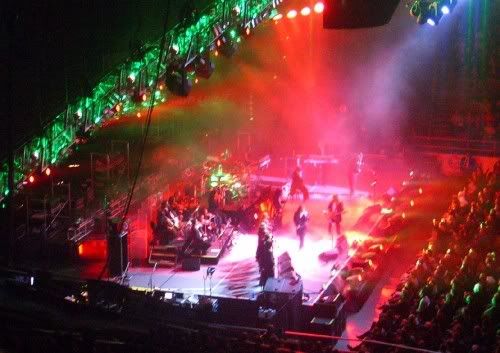 It's Christmas music Rock Opera Style! How amazing...
Ok, one tip...
Don't sit 7 rows from the stage- The light show is incredible and I may have strobe stroke.
Well, 2 tips actually...
Request a seat change if the guy sitting next to you is 400 lbs and hasn't showered in who knows how long! Especially if the guy asks "How much did you pay for your seat anyway?"
I felt like asking him for $22.50 at the end of the show to pay for the half of the seat his phat azz took up- particularly just after having admitted in his veiled way that his tix were comped. (I fear for the buffet that whale attacked afterwards)
Thankfully the Spirit of the show gave me the strength to not say anything offensive.
It was unabashedly Christian in its message which I LOVED! It also seemed as if Eddie Van Halen, Alice Cooper, and Queen got together to create the Greatest Christmas Rock Opera ever performed...
Not to mention the absolute beauty they had jamming on the electric fiddle...
This is a show not to be missed!! I loved the timing of the Las Vegas show because it provided me a great Birthday present for my wife. Happy Birthday Baby... I love you!