Poppin' Jalapenos
I'm a total wreck when it comes to maintaining a strict diet... please forgive me all of you who are in our bloggin' group who is attempting to lose weight, but I have been anticipating this for days...
(btw, I did weigh in 2 pounds lighter after the first week, and this is my celebratory dance!)
...considering the meltdown on Wall Street of epic proportions, my solution is to cook and eat my favorite snack.
If you would like to lose your appetite, read
this article
...
ANYWAY...
My wife
wanted to start blogging some recipes after hearing the rave reviews of her cooking from friends and family. She mentioned Jalapeno Poppers (one of my buds call 'em Armadillo Eggs for traditionally 'poppers' are breaded and fried) but I was thinking "Hey, that's my dish!" So I figured I'd beat her to the punch and post them first... perhaps a severe tactical marital error but I'm going to enjoy these while they last!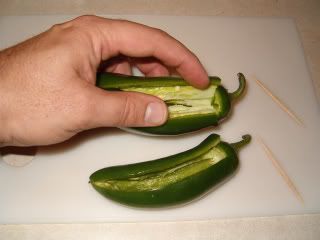 Start with the largest jalapenos you can find, generally the largest ones are not as hot as the smaller ones but there is no guarantee... the larger ones are easier to stuff and besides, they hold more
CHEESE
!
Cut across the top of them just below the stem but only halfway through, then cut down the length of the jalapeno enough to open it up to allow you to scrape the sinew out of them to make some room for the yummy cheese.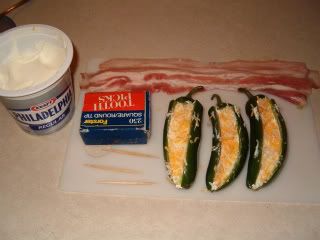 I stuff them 90% with good ole Philly cream cheese then put some shredded Mexican cheese in for extra flavor... then comes the yummy yummy bacon... MMMMMmmmm bacon...
Wrap and secure with toothpicks then get the grill nice and warm. These are best cooked over a nice warm campfire on a chilly night in the woods but tonight we'll make do with the backyard grill.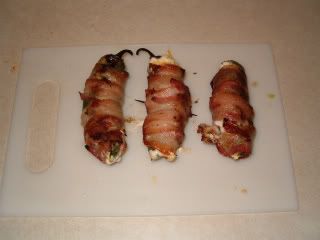 Before you know it, they're hot and ready baby!!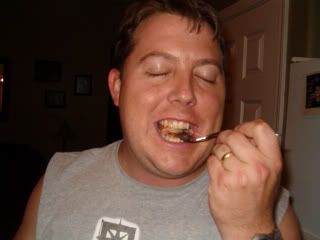 MMMMmmmm... this is by far one of my favorite snacks. This cracker from Upstate NY would never have dreamed of eating peppers like I now do, but I got to tell ya, there is nothing like it. HEY, they're full o'vitamin C and antioxidants and those are healthy things right?