Some Toasts to Open Posts
Let us pour a few...
...and propose a toast...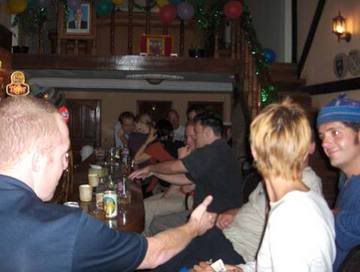 To the Weekend Open Post Trackback fests,
and to squirrels who chug...
(didn't rhyme but it's the visual that counts)
I can't say that I can blame the little guy,
he could use a lil meat on them bones.
Hey, I haven't toasted yet!
Here's a few toasts for any occasion:
It is better to spend money like there's no tomorrow
than to spend tonight like there's no money!
--
To live above with the Saints we love,
Ah, that is the purest glory.
To live below with the Saints we know,
Ah, that is another story!
--
May the lilt of Irish laughter
lighten every load.
May the mist of Irish magic
shorten every road...
And may all your friends remember
all the favours you are owed!
--
May you have the hindsight to know where you've been,
The foresight to know where you are going,
And the insight to know when you have gone too far.
Happy Sunday to ya, I'll leave the rest to you all...
Leave me a trackback and I'll add it to this post below
or go ahead and hit the
tip jar
and leave a toast of your own.
Or give me a
shout out
from wherever you are.
Cheers!!
trackback for this post:
http://haloscan.com/tb/peakah1/113242323054872260




Offering up toasts & posts:

Can Blogging Be Addictive? by Committees of Correspondence.

The True Meaning of Thanksgiving by Stuck on Stupid.

Sun-Mon Movie Linkfest by Mensa Barbie

Why can't we all be Americans? by The Real Ugly American

Mexico: Wah-Wah-Wah and The Misplaced Blame of Illegal Students by Freedom Folks

Job was a Piker by third world county

Sunday Open Trackback by Robinik.net

Woodwardgate scorecard: Armitage is #1! and Monday Open Tar Pit #5 and
Don Surber's hostile takeover of Open Source Media by The Tar Pit


Weekend Open Post Sites
The Right Nation
Where are my socks?
Point Five
Wizbang
Stop the ACLU
The Political Teen
MVRWC
Common Sense Runs Wild
TMH's Bacon Bits
MacStansbury
Conservative Cat
Soldiers' Angel
third world county
Samantha Burns