Trippin to Stone the Devil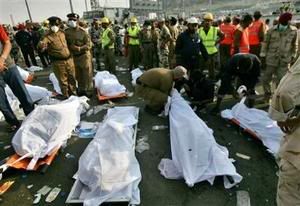 345 Dead in Stampede on Last Day of Hajj
MINA, Saudi Arabia Jan 12, 2006- Thousands of Muslim pilgrims rushing to complete a symbolic stoning ritual during the hajj tripped over luggage Thursday, causing a crush in which at least 345 people were killed, the Interior Ministry said.

The stampede occurred as tens of thousands of pilgrims headed toward al-Jamarat, a series of three pillars representing the devil that the faithful pelt with stones to purge themselves of sin.
I guess they're now guilt free to resume a fresh new year of homicide bombings.
Scott Ott at ScrappleFace advises not to
wager against the Devil
:
Oddsmakers in Las Vegas warn customers never to wager against the Devil in his annual contest versus stone-throwing Muslims during the Hajj (pilgrimage) to Mecca.

This year, not only did the Devil extend his undefeated streak, but he beat the spread that Vegas insiders had pegged at 250 deaths, based on his 2004 performance.

The ceremonial stoning of the Devil is a highlight of the annual pilgrimage, and an economic shot-in-the-arm for the local healthcare and funeral services industries.

An unnamed Saudi cleric, speaking for Allah, the official deity of Islam, defended the Pilgrims' effort despite this year's toll of 345 dead and hundreds injured.

"They put their hearts into it," the Imam said. "But we just didn't execute on the fundamentals- like standing up and staying out from under foot. This game is 90 percent mental, so we'll have to go back to the Koran and work on the basics."

During his annual post-stampede news conference, the Imam brushed aside suggestions that he might forfeit future match-ups with Satan, or attack in smaller groups to reduce accidental trampling. Instead, he searched for a silver lining in the depressing performance.

"If it's any comfort to the families of our deceased Hajj rookies," he said, "at least Muslims are required to make only one trip to Mecca in a lifetime."