Yeaaaaaaaaaahhh Boyyyyyyy!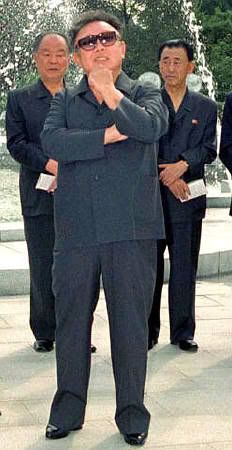 SEOUL, South Korea - North Korean leader Kim Jong Il has traveled to China on a rare trip outside his country, a South Korean military intelligence official said Tuesday.

The official told The Associated Press he received the information from South Koreans working inside China. The official spoke on condition his name not be used because of the sensitivity of the information.

"We confirmed he went to China," the official said. "We don't know why."
Kim pilots jet fighters, pens operas, produces movies and accomplished a feat unmatched in the annals of professional golf by shooting 11 holes-in-one on the first round
he ever played...
Judging by his B-boy Stance and his phat posse, this trip could mean only one thing...
His rare trip to China is most likely to search for
these Chinese stars
in preparation of his head to head battle with
Simon Cowell
to challenge for the next
American Idol...
He is also in search of the uniquely American
wall clock neckchain
...
as seen at The Carnival of Comedy hosted by Absurd Spices