Deep Fried Dipwad
I know how much
Sam
loves PETA so this one is for her, in case she was contemplating a name change...
Found on
WorldNetDaily
:
A worker with the rights group People for the Ethical Treatment of Animals has changed his name to KentuckyFriedCruelty.com to support a campaign against the Kentucky Fried Chicken restaurant chain.

The former Chris Garnett says the name is official, and he has the driver's license and papers to prove it.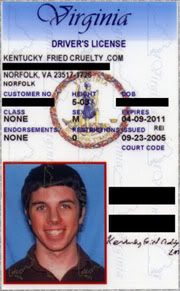 C'mon dude, you know you're just doing it to get
Pamela Anderson
all hot for you... who are you kidding?
Say my name baby!!
Oh, Kentuckyfriedcruelty.com save them chickens you cluckin stud!
If that doesn't work out, there's
Lauren Anderson
to hit on... you remember her right? The
star
of the
smash hit
"Who Wants to be a Playboy Centerfold" on FOX? ...me neither...
If that doesn't work out, there's always
Andy Dick
! Yikes...
You can't blame him, testosterone (or perhaps the lack of) does weird things to 19 year old boys.
I'm sure he is making his parents proud.
They still call him Chris, but "have accepted the change."

The website says "KentuckyFriedCruelty.com's advocacy for animals has been the defining force in his life since he was a child."

"His father would take him fishing, but when he saw the animals struggling at the end of a hook, he insisted on taking up bird-watching instead.
Nice job explaining survival skills to your kid pops.
Don't get me wrong, there are some
pretty disgusting
things that happens to those chickens while they're being prepared for mass consumption and I've always been of the camp that life should be treated with respect, yet it is no small task to raise and prepare almost a billion chickens a year to meet the demands made by KFC's consumers.
It's when PETA does
moronic campaigns
such as equating the lives of chickens with the lives of Jews in concentration camps during WWII that rationality gets tossed out of the window and PETA loses their credibility.
I don't have a dog in this hunt... I'm allergic to things with wings, well, birds anyway. The flies I ate when I was a kid didn't seem to do much damage. It's
Prime rib
time for me when the turkey is being cooked during the holidays!
I think it's time to fry up some bacon just for fun... MMMMmmmm bacon...
Just remember... No Choking the Chicken!
As seen at Wizbang's Bonfire of the Vanities hosted by BIRD

(linked with: The Political Teen, Wizbang, Conservative Cat, NIF, Basil's Blog, Is It Just Me?, Stuck on Stupid, The Uncooperative Blogger, Big Dog's Weblog, Reel Teen, Chris Christner's Blog, Six Meat Buffet, and Samantha Burns)