Swag-tacular!
I wish photobucket would update the resizing of this picture already!
It's messing up my fung-shway! ...or should I say, fung-swag...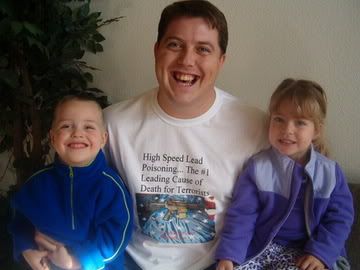 Ok ok ok... so I'm not nearly as
Hot as Uber
... or as well armed
as CUG
...
...thus the shameless use of my kids to make me look cuter.
But hey, it's all about the
Dr. Phat Tony Swag
eh?
Man I hate getting my picture taken, but for some strange reason, perhaps due to the lack of attention I received as a kid or something, I have no problem posting my goofy lookin kisser for all to see on the internet.
I first took
this shot
but realized that the tree behind me made me look like Diana Ross...
So I tried to get silly, something I'm much more comfortable being, but well, the picture speaks
for itself
.
That's when I took the
weasel hostage
...
but felt more comfortable with the
silly face
...
So I grabbed my lil girl and I think
she pooped
.
I'll leave the modeling up to
Uber
...
If there's anything I learned, I need to get off of this computer and go hit the gym!
Thanks
Doc
for the awesome gear! Now get over to
his shop
and get'chore own!