Zawahiri Wuz Not Here-ee
UPDATE
:
Pakistan Condemns Purported CIA Airstrike
DAMADOLA, Pakistan Jan 14, 2006- Pakistan on Saturday condemned a purported CIA airstrike on a border village that officials said unsuccessfully targeted al-Qaida's second-in-command, and said it was protesting to the U.S. Embassy over the attack that killed at least 17 people.

Thousands of local tribesmen, chanting "God is Great," demonstrated against the attack, claiming the victims were local villagers without terrorist links and had never hosted Ayman al-Zawahri.

Two senior Pakistani officials told The Associated Press that the CIA acted on incorrect information in launching the attack early Friday in the northwestern village of Damadola, near the Afghan border...

...Washington had no comment on the reports that the attack was aimed at al-Zawahri, who has a $25 million U.S. government bounty on his head. Like bin Laden, he is believed to have been hiding along the rugged Pakistan-Afghan frontier since the Sept. 11 terror attacks.

Pakistan says it does not allow Afghan or the 20,000 U.S. forces in Afghanistan to cross the border in pursuit of Taliban and al-Qaida believed to be hiding there. The war on terror is opposed by many in this Islamic nation of 150 million people.

Pakistan's information minister, Sheikh Rashid Ahmed, called the "incident" in Damadola "highly condemnable."
Unfortunately this morning I awoke to the news that al-Zawahri may not be dead after all... the zit lives... but only after a village suspected of harboring him and his associates was leveled.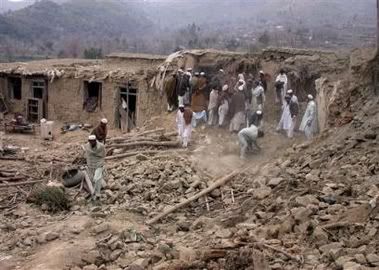 Thanks to
RightWinged
for the alert that
"the number two wasn't successfully flushed."
From Yahoo News:
DAMADOLA, Pakistan - Al-Qaida's second-in-command was the target of a U.S. airstrike near the Afghan border but he was not at the site of the attack, two senior Pakistani officials said Saturday. At least 17 people were killed.

Citing unnamed American intelligence officials, U.S. networks reported that a CIA-operated Predator drone aircraft carried out the missile strike in the Bajur tribal region of northwestern Pakistan.

The two Pakistani officials told The Associated Press on Saturday that the CIA had acted on incorrect information, and Ayman al-Zawahri was not in the village of Damadola when it came under attack. Al-Zawahri is ranked No. 2 in the al-Qaida terror network, second only to Osama bin Laden.

An AP reporter who visited the scene in Damadola village about 12 hours later saw three destroyed houses hundreds of yards apart. Villagers recounted hearing aircraft overhead moments before the attack. By their count at least 30 people died, including women and children.

There was no confirmation from either Islamabad or Washington on the reports that al-Zawahri had been targeted, but a Pakistani intelligence official said that the CIA had told Pakistani agents that they had targeted al-Zawahri in the attack.
This is likely to strain an already tenuous relationship with Pakistan.
It looks as if it was not all for naught, via
Captain's Quarters
:
But Pakistani officials tell ABC News that five of those killed were high-level al Qaeda figures, and their bodies are now undergoing forensic tests for positive identification.
Also following closely:
Michelle Malkin
,
Independent Sources
,
The Counterterrorism Blog
,
Ace of Spades HQ
,
Opinion Bug
,
Pyjamas Media
,
FullosseousFlap's
,
Small Town Veteran
,
Sacred Monkeys
,
Stop the ACLU
,
Fitch is Always Right
,
bRight & Early
,
ZardozZ News & Satire
,
Gina Cobb
,
The Irate Nation
,
Everything Between
,
1492 Columbus