Thanksgiving 2005
My tribute to the Euro centric (a bad word in Sociology classes across America) Thanksgiving Day Tradition...
Our Founding Father, George Washington, Proclaimed Thanksgiving Day an
Official American Holiday
...
click on picture to read his words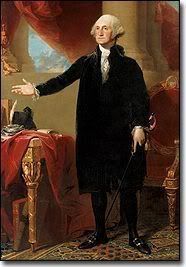 Here's the introduction:
Whereas it is the duty of all Nations to acknowledge the providence of Almighty God, to obey his will, to be grateful for his benefits, and humbly to implore his protection and favor -- and whereas both Houses of Congress have by their joint Committee requested me "to recommend to the People of the United States a day of public thanksgiving and prayer to be observed by acknowledging with grateful hearts the many signal favors of Almighty God especially by affording them an opportunity peaceably to establish a form of government for their safety and happiness."
Insolublog
, another great example of the greatness of America, humbly reminds us what we
so take for granted each day
. These are things to truly be thankful for.
Thenagain, there's
Dr Phat Tony's version
of what happened...
Here's a site dedicated to the
True Story of Thanksgiving
...
I hope you all have a wonderful
Thanksgiving Day
!
God Bless America and her Troops this Thanksgiving Holiday.
See these Thanksgiving Posts:
The Conservative UAW Guy
Diane's Stuff
Sunday Morning Coffee
The Gunn Nutt
Mensa Barbie
Pettifog
Basil
Pajamas Media
Robinik
third world county
Don Surber
Ipso Facto Comic
Mudville Gazette
Michelle Malkin
The Volokh Conspiracy
Jo's Cafe
TMH's Bacon Bits
NIF
Cao's Blog
Right Wing Nation
Stop the ACLU
The Political Teen
Euphoric Reality
My Vast Right Wing Conspiracy, Liberal Utopia