Urban Foraging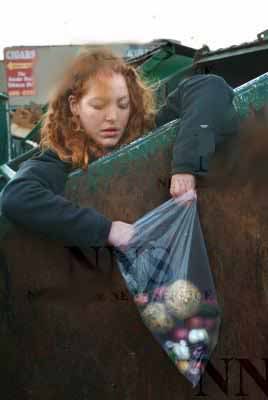 This may be all the proof I need to prove that lack of particular meat proteins are damaging to your rationality.
The '
freegans
' are on the loose and they're digging through your garbage for your pre-chewed food in the name of conservation!
The anti-capitalist freegans- the name combines "free" and "vegan" -are so appalled by the waste of the consumer society that they try to live on the leftovers, scavenging for food in supermarket dustbins.
Has anyone seen that ABC show Wife Swap? What a trip... A couple of weeks ago they featured a 'freegan' family who
swapped moms with
a spoiled rich Providence family. It was priceless!
For energy-conserving, dreadlocked couple Sienna (34) and 'Ash (24) Kestrel, shunning the American dream is a way of life. . Not only do Sienna's 12 year-old son, young purple haired Ian and his skirt-wearing stepfather, 'Ash, share in the housework, they also team up with Sienna to make their living by diving through local dumpsters for food and cast-off furniture. The family do all they can to make certain their income stays below the poverty level.
Now that's entertainment! A
Times Online
article features these fruitcakes:
"It's fun. It's a thrill. It's more fun and more satisfying than just going to the store and saying, 'I wanted some bread and I got it'. It's the surprise- and the prize," said Janet Kalish, a New York high school teacher who describes herself as "60 per cent freegan".
It would have to be a high school teacher from NYC!
Now that I think about it, they're making someone else's means of survival a thrill seeking sport! I'm no hobo, although I play one on the blog-o-sphere, I'd be kickin the crap out of these nutjobs! Where's their compassion really?
If this is something that you have experience with or feel the insane need to try, check out this list of "
favorite foraging sites
". Let me know what'cha come up with!