Crash and Burn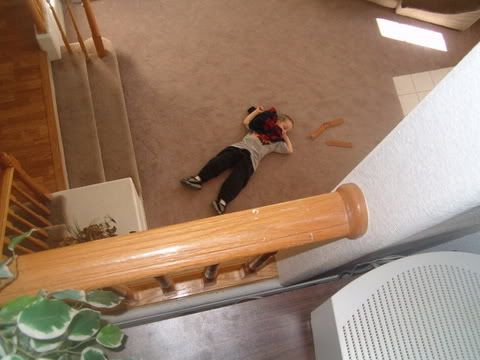 You would think I would have heard the *THUD*
I grew suspicious of how quiet the house became
and turned around and saw the lil guy just lying there!
With 4 year old idealism he would see that drop and think, piece of cake.
I guess he misjudged the distance to the couch.
Don't worry folks, he'll bounce back.
Between my wife and I, the kid has one hell of a hard noggin.
As soon as dinner starts cooking and the aroma hits the sinuses
he'll be up moaning
I'm hung-wee
--- --- --- --- --- --- --- --- --- --- --- --- --- --- --- --- --- ---
UPDATE:
Insolublog seems to be investigating the scene for me and has begun interrogations. To satisfy his need for just the facts:
1. Notice the plastic spiderman belt broken on the floor
and the cape clutched in his hands...
...apparently these both malfunctioned and a lawsuit is being drawn up
against the manufacturers of these items along with a documented history
of repeated failures.
Tha Wease apparently has a nice future as a Products Tester for a defense contractor lining up for him.