A Day in Honor of a Great American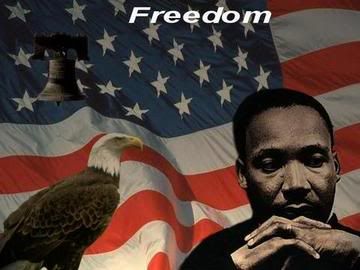 (picture above takes you to MLK's website)
While I may have issues with the fact that we have a day in the name of Martin Luther King Jr, yet we no longer recognize George Washington or Abraham Lincoln by name in the form of National Holidays,
(whom without which MLK would have never have had a podium to stand on)
...or that MLK's surviving family has made a business by demanding outrageous royalties for use of any of their slain relative's words...
...or the fact that con artists such as Jesse Jackson and Al Sharpton portray themselves as modern torch bearers of this man whose shoes they are unworthy to shine...
There is no denying the tremendous impact made on the American culture by this great Man.
As celebrations occur across the country, this is a time to be thankful for the progress we've made in the name of Martin Luther King Jr's bold and beautiful words:
I have a dream that one day this nation will rise up and live out the true meaning of its creed: "We hold these truths to be self-evident: that all men are created equal." I have a dream that one day on the red hills of Georgia the sons of former slaves and the sons of former slaveowners will be able to sit down together at a table of brotherhood. I have a dream that one day even the state of Mississippi, a desert state, sweltering with the heat of injustice and oppression, will be transformed into an oasis of freedom and justice. I have a dream that my four children will one day live in a nation where they will not be judged by the color of their skin but by the content of their character. I have a dream today.
Crossposted at
Battle Born News
Mayor Nagin of New Orleans claims in his MLK Day speech that New Orleans is a
'Chocolate City'
... uhhh... sounds delicious. From Dallas News:
"New Orleans is a chocolate city, but most African-Americans don't participate economically in a meaningful way," the mayor responded. "There is an element in the city that would like to see what used to be. Some of it's racial, but most of it's economic."
At
Stop the ACLU
we see the shameful attempt by the ACLU to relate MLK to terrorist suspects operating amongst us...
ACLU's disgusting ad here
.
(linked with Mensa Barbie's Tribute and with Committees of Correspondence because I love his mission statement, and RightWinged because that blog is downright hilarious and I'm going to exploit his Open Post, hint: you should too!)