Future Subway Sandwich name: The Mecca Melt
It's only getting worse: (click picture to go to story)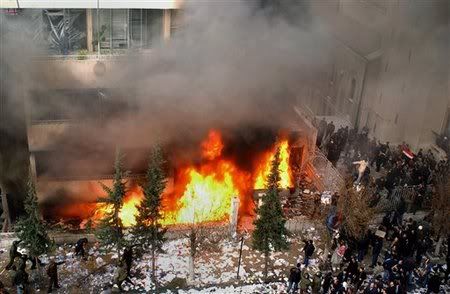 It's free speech-
no in fact it is the ultimate in artistic expression
-
to put a Crucifix in a jar of urine or to heap elephant dung on the Virgin Mary and display it in a NYC art museum.
But print this in a newspaper?
And all hell breaks loose.
Including burning down an Embassy
(again)
From Stop the ACLU:
Danish Embassy Set Ablaze: Can We Co-Exist?
See the protest signs they were carrying at
Michelle Malkin
... if these don't directly communicate their intentions to you, you're braindead.
Randy at RightWinged
nails it
and has posted all of the pictures in international papers that are making these crazies crap in their head scarves.
Oh but if only we would say sowwy:
Everybody in the Muslim world, though, wants a clear-cut apology. They don't want the caveat of free speech, they want a clear-cut apology. So, maybe it won't go away until they hear those words, "I'm sorry."
Umm... I highly doubt that an "I'm sorry" is going to cut it...
How about "get over it" instead? It would be more to the point.
Meanwhile our State Department
is on the wrong side
of the equation as usual... because these muslims
want blood spilt
over this...
Only in a hardcore theocracy are you going to achieve a society that is not at least somewhat outwardly sacrilegious. So I guess it is safe to assume that a hardcore theocracy is exactly what European muslim immigrants
are pushing for
.
If it wasn't cartoons, it'll be the
public sales of alcohol
, or something else, or something else...
Lets just get it on already and melt mecca so we can see what new sandwiches can be marketed off the name "The Mecca Melt".
UPDATE:
Katey
left a link
in the comment section showing all the artistic renderings of Muhammad throughout the ages lending more evidence that these latest renderings are just the vehicle whereby these fanatics use to riot. I'm telling you, it's always going to be something...
As seen at
Basil's Picnic 2-6
See all the other coverage at:
Atlas Shrugs
GOP and the City
Freedom Folks
Media Lies
Sister Toldjah
My Vast Right Wing Conspiracy
Roger L Simon
The Jawa Report
Secular Blasphemy
Peaktalk
The GunnNutt
Stop the ACLU